3) Advance Theft Proof Design.
Diaphragm Gas Meter
New-Type J-I Series Residential Gas Meter has peculiar anti-fraud function: it can immune meter from counting failure when gas consumer slant place it, This function can prevent bad moral gas stealing, protect gas supplier's commercial interests.
Patents Registered:
1. Even Slant to any angle, the meter can count normally.
Manufacture accord to OIML R31 and GB/T 6968-1997 (China National Standard for Diaphragm Gas Meter), able to manufacturer EN1359 meter.
TYPE J-I, Size G1.6, G2.5 and G4 Domestic Diaphragm Gas Meter, Slant-theft Proof. Applicable scope: natural gas, coal gas, liquefied petroleum gas, mine gas, marsh gas and other artificial burning gases.
Technical Parameter:
No.

Main Technical Parameters

Value

J1.6-I

J2.5-I

J4-I

1

Maximum flow-rate:

m3/h

2.5

4

6

2

Minimum flow-rate:

m3/h

0.016

0.025

0.040

3

Permissible error:

Qmin≤Q<0,1 Qmax

%

±3

0,1 Qmax≤Q≤Qmax

%

±1.5

4

Maximum working pressure:

kPa

30 or 50

5

Total pressure loss

Pa

≤200

6

Index min. reading

dm3

0.2

7

Index max. reading

dm3

99999.999

8

Operation ambient temperature:

°c

-10~+40

9

Storage temperature:

°c

+10~+55

10

Service life

Year

10
Dimension & Weight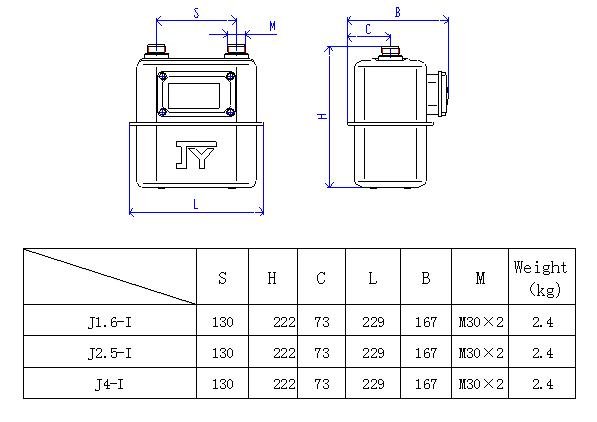 All dimension is in millimeter.
The Meter thread dimension(M) could be change according to per customer request.
The Characteristics:

1. Immune gas company from economic loss which is caused by illegal theft through slant the meter;
2. Good discharge curve;
3. Low pressure lost;
4. The diaphragm is made of Polyester fabric coated with nitride synthetic rubber, passed more than 200 million times of Bally test;
5. Build-in mechanism. The case is sealed independently, with tight and nice appearance, easy for cleaning;
6. Using Hot-print technology on the counter, its has more clear reading and ensure not depigmentated;
7. Good structure immune the gas meter from contamination, which ensure a long service life upto 10 years;
8. Advanced Magnetic drive. Gas flow data is transferred magnetically to the indicating device, which greatly reduces wear of diaphragm and prolong its service life to 2 million times or 10 years.