school stationery,stationery,office stationery
1)good galvanized steel wire
2)large stock
3)various colors
4)passed SGS
school stationery,stationery,office stationery
1.Our wire o is made of the imported rubberized wire.
2.The surface of the nylon coating is lustrous, extremely thin and symmetrical;
3.The central steel of the wire is rigid, which make it stay for long time.
4.No matter appeareance or durability, it will be more better than the normal double wire.
5.Our wire o are easy to presses the circle and convenient to bind.
6.It is suit for binding the book, calendar, live notebook, atlas, diary book, products catalog and so on.
7.Our wire o is suitable for office supplies.
Advantages:
1. Free precut service.
2. Good quality.
3. Full range of specifitions-size from 1/4"to1-1/2".
4. Wide choices of colours.
Double Wire Specification:
Size

Pitch
Recommended max Thickness
Approx Number of Sheets(80gsm)
1/4"(6.4mm)
3:1
(4.8mm)
45
5/16"(7.9mm)
(6.4mm)
60
3/8"(9.5mm)
(7.9mm)
75
7/16"(11.1mm)
(9.5mm)
85
1/2"(12.7mm)
(11.1mm)
100
9/16"(14.3mm)
(12.7mm)
120
5/8"(15.9mm)
(14.3mm)
135
5/8"(15.9mm)
2:1
(14.3mm)
135
3/4"(19.0mm)
(17.5mm)
165
7/8"(22.2mm)
(20.6mm)
180
1"(25.4mm)
(23.8mm)
200
1-1/8"(28.6mm)
(25.4mm)
230
1-1/4"(31.8mm)
(28.6mm)
260
1-1/2"(38.1mm)
(35.0mm)
320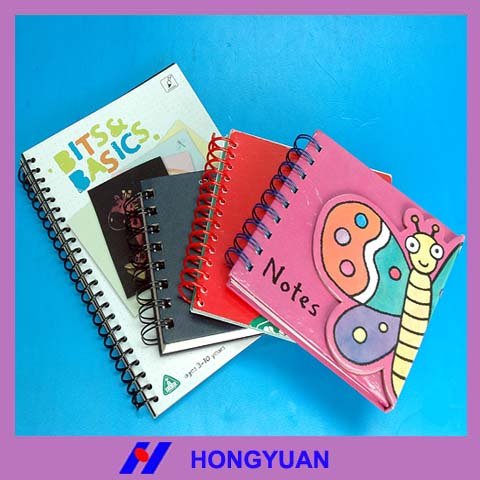 We have important business in the overseas market due to our high quality and reasonable prices. Also,we can supply Double Loop Wire Binding according to customers' requirements!All the above picture is just for your reference, We can provide service according to client's requirements!We promise you with the finest price,high quality and best service.If you have any problems about details please contact us.
Shenzhen Hongyuan Stationery Co., Ltd. ,established in 2003 . We is an exporter of China (Mainland) Other Printer Supplies products. Our products always sell well in the worldwide markets, including North America South America Eastern Europe Southeast Asia Africa Oceania Mid East Eastern Asia Western Europe. With this way we can offer the best prices and quality to our customers! We sincerely invite you to visit us!Please, have a look at our website on www.szhywj.net!.