polar fleece gifts blanket
polar gifts blanket
polar fleece gifts blanket
polar fleece gifts blanket
polar fleece blanket
Detailed introduction:
A: Products' particular Introduction:
sofa fabric/polyester fabric/ corduroy/blanket fabric/cushion fabric/corduroy fabric/velboa fabric/plush/plush fabric/jacquard sofa fabric/pv plush /sofa fabric/jacqpolyester fabric/car seat fabric/cloth fabric/towel fabric/cushion material/plush toy fabric/short plush /soft plush/sofa fabricslipper fabric/vest fabric/beach fabric/suit fabric/garment fabric/garment fabric textile/blanket material/plush blanket/carpet fabric/balnkets/jacquard sofa fabric/upholstery fabric/polyester curtain fabric/window curtain fabric/curtain fabric/printd fabric/printed corduroy/corduroy bag fabric/sofa cushion fabric/sofa material.reasonable price,high quality,just try it ,you will find better life.
B: Main products :
1.suede:
suede fabric, warp suede,weft suede,warp knitting suede,twill sofa fabric,cotton suede,spandex suede,bronzed suede,adhesive suede,press film suede,golden suede,
silver suede,embossed suede,printed suede,embroidery suede,compound suede,
bonded suede,puching suede,punching suede,leather suede,jacquard suede
2.plush:
double-side plush,pv plush,short plush,velboa,velvet,floss,
super soft plush,pull plush,loop plush,
3.corduroy:
1-35 bar shape corduroy, ice flower corduroy,corn checker.
C: Details
1.New sample: 100%High quality 2010 new polyester travel blanket/baby blanket/polar blanket/polar fleece blanket/gifts blanket
2.Material is 100%Polyester
3.Use is Home Textile and Apparels and Cushion and Upholstery and Toy and Ribstop
4.Type is plush fabric/plush toys/blanket fabric/velboa fabric/cushion fabric/plush
5.Suede Fabric Type is Tricot plush fabric
6. Pattern is Printed/plain/golden/press film,adhesive
7.Style is Plain Dyed/printed/downy/waterproof
8.Width is 57/58"Plush fabric
9.Technics is Warp Knitted pv plush fabric ,blanket fabric,cushion fabric
10.Knitted Type is plush cushion/ blanket fabric/plush toys
11.Feather is Brushed, Abrasion –Resistant,brushed,soft,downy,home ,textile.
12.Yarn Count is 16
13. Weight is 210-300
14.Density 110-150
15.Model Number is R10-12
16.Color Any Colour is obtainable
17.Place Of Origin: Zhejiang, China
18.Brand Name: Joshua
19.Transportation:FOB OR CIF
20.Payment:T/T,L/C
D: More detailed introduction:
we accept small quantity order and the price keep the same
100%positive power seller
fast shipping always within 15days of receipt of payment
professional,personalized,courteous,responsive,service.
My company operating in good faith the principle of mutual benefit, please call letter to negotiate.
1)Price : much more reasonable prices. According to sample size reported accurately price.
2)Quality: advantage technology produces top quality.
3)Material : polyester or cotton.
4)Fashion style : various colors and patterns.
5)Hand feeling : softness and comfort, hanging well ,handling easily.
6)Service : supplying direct form our own factory and selling abroad.
7)L/C,T/T FOB ,CIF,Ningbo or shanghai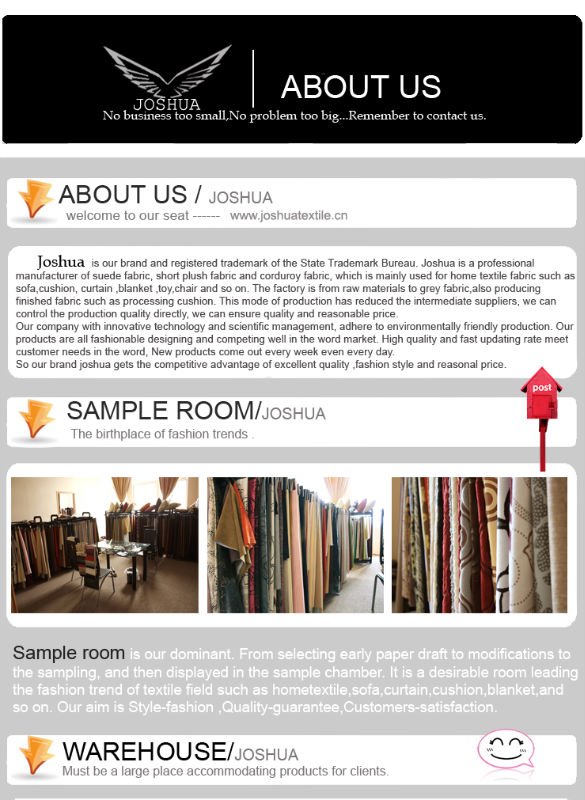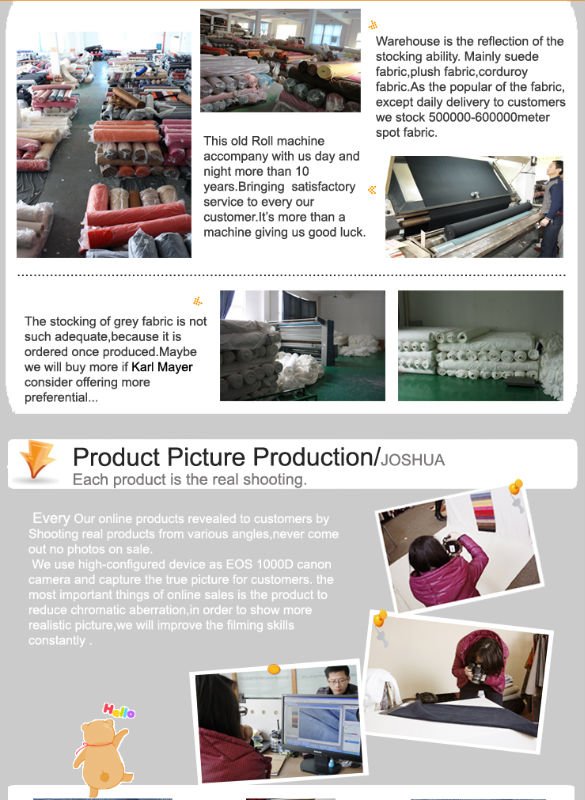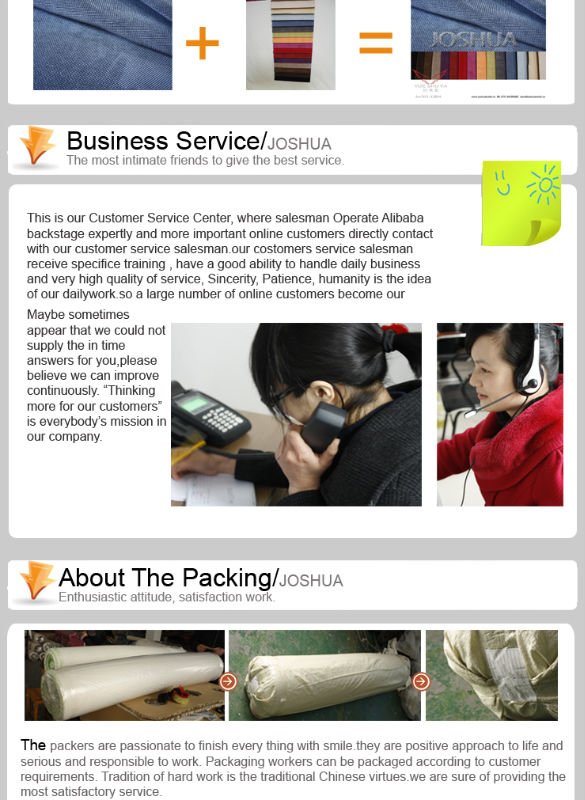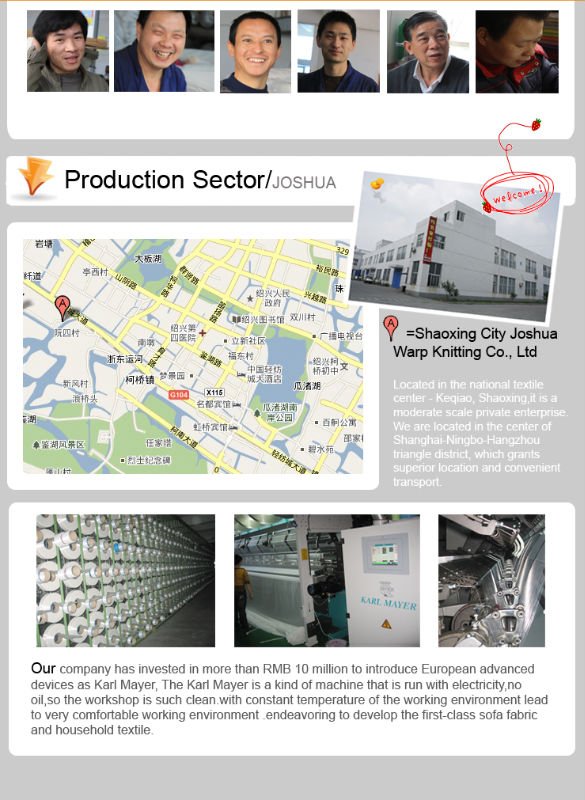 All this kind velboa, we promise will offer the best price by the good quality in china!All the above picture is just for your reference, We can provide service according to client's requirements!We promise that our lampholder would be saftety and were in high quality and reasonable price. If you are interested in our products, please contact us asap.If you have any problems about details please contact us.
Shaoxing City Joshua Warp Knitting Co., Ltd. Was established in 2007 . We is an exporter of China (Mainland) Bedding Set products. Our products are mainly sold to North America Southeast Asia Africa Mid East Western Europe! We have a perfect quality management system to ensure the quality of our products. We sincerely invite you to contact us!Please visit our website at www.joshuatextile.cn for details about our company!