1 aerated stirred equipment of double-deck impellers
2 low power consumption
3 high speed rising of fine bubbles
This product is also called aerated stirred equipment of double-deck impellers.
Stirring and mixing water is one of the essential technological processes of municipal, chemical papermaking and many other kinds of water treatment technologies. There are two commonly used types of stirring mechanism: vertical shaft with detachable blade and horizontal (diving). Their operation modes, determined by the installation methods and the blade shapes, turn out unsatisfactory both in the energy consumption and in the stirring effect, which bring unnecessary increase in operating costs and would directly affect the effectiveness of the mechanism. To solve the above problems, after four years' research, and profited by some other designs, we have successfully developed the aerated stirred equipment of double-deck impellers with proprietary intellectual property rights, and applied for a national patent (200,920,053,231.3).
Main features:
1. Dual functions of stirring and aerating; and sole stirring is available.
2. Rational design and low power consumption.
3. Low investment for large, medium, and small scale sewage treatment.
4. Effective and durable.
5. Made by PE, glass fiber reinforced plastic or steel to improve its anticorrosion.
6. Simple structure and easy management.
Working Principle:
Hyperboloid aerator mixer is aerated stirred equipment able to produce large capacity of air and obtain soft flow circulated in large area with relatively small power. The users can select different rotated speed in accordance with the technological requirement. For example, if solely stirring is needed, we would select a corresponding lower rotated speed; if aerating is needed, we would choose a corresponding higher speed; if solely stirring is needed when the aeration is enough, we would apply the frequency changer system to convert the rotated speed to achieve the ideal effect.
technical data: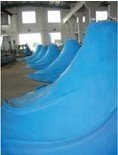 Common aliases:Hyperboloid stirring aeration machine, Hyperboloid mixer, Vertical pulsator mixer,Dual-purpose machine hyperboloid stirring aeration.
All this kind hyperboloid blender&mixer, we promise will offer the best price by the good quality in china!We can also produce according to your requirement.Welcome your negotiated prices,we promise your good price will be our consideration.If you have any problems about details please contact us.
Chongqing Chenming Water-Treating Equipment Limited Company was found in 2008 . We is an exporter of China (Mainland) Aquaculture Machine Aerators products. Our products are mainly sold to North America South America Eastern Europe Southeast Asia Africa Oceania Mid East Eastern Asia Western Europe! Yangjiang Q Mark Cutlery Factory has won a high reputation among clients. Our products are popular with clients due to the highest quality. We make the products in accordance with ergonomic requirements. If we don't have idea of what you're looking for, please call or e-mail with your ideas and we may be able to make you something completely unique!please visit our website at www.cm198.com.cn for a full list of products.