Electrical Equipment & Supplies
>
Switches
>
Photoelectric switch/CE certificate/unique three-year warranty/OTIS,OMRON
Photoelectric switch/CE certificate/unique three-year warranty/OTIS,OMRON
Detailed Description
elevator switch OTIS
High light-proof(30,000lux compare to common 10,000lux)
High anti-EMI(2500V compared to common 1000V)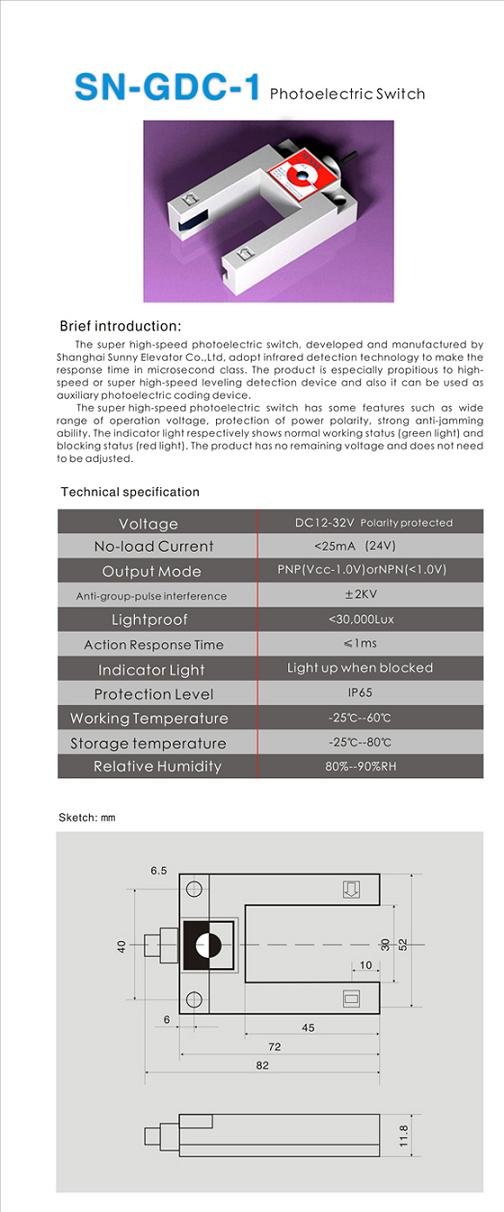 Signal is handled by high-speed operation amplifier. fast discharge circuit is added in the circuit, which greatly increase the open and shut speed and makes the signal more clear. The reaction time reachs micron-second class. It can detect any object with a speed as high as 30 m/s.our two other features include high light-proof(30,000lux compare to the prevailing 10,000lux)and high anti-EMI(2500V compared to the prevailing1000V)
We supply with all kinds of Photoelectric switch!We also accept special order about the products. If you are interested in our products. Please do not hesitate to let us know.We are pleased to give you the detailed information.We promise all the products we supply are high quality and best price.We are sincerely looking for your cooperation.
Company information:
Shanghai Sunny Elevator Assembly Co., Ltd. Was established in 1997 . We is an exporter of China (Mainland) Other Switches products. Our products are mainly sold to North America South America Eastern Europe Southeast Asia Africa Oceania Mid East Eastern Asia Western Europe! Not only the quality of the goods is superior but also the price is moderate. We hereby sincerely invite you and your company representatives to visit our booth!Please visit our website at www.esunny-sh.com for details about our company!
Send Inquiry to this Supplier
Hot Products from Other Importer & Supplier
Copyright © 2010 Wholesale lots. All rights reserved. Contact Us:tonyluo2005@gmail.com
Processed in 0.12069 second(s)