Automobiles & Motorcycles
>
Body Kits
>
Cam Lock(file cabinet lock)
Detailed Description
We specialize in manufacturing file cabinet lock,cam lock,key lock,door lock and other series of locks with a history of 20 year
Cam Lock(Lock,file Cabinet Lock,Key Lock,Door lock)
Detailed Information:
1.Material: zinc alloy and brass
2.Plated:chrome, nickel
3.Key:steel
4.Model Number:MS400-1
5.Packing:box or carton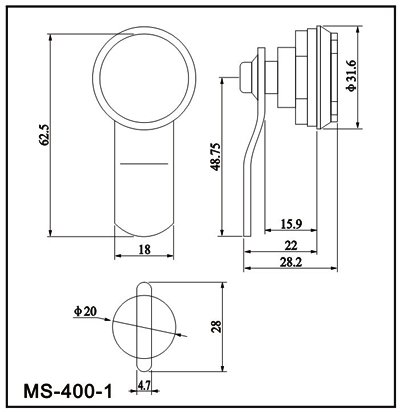 Welcome to our website for more information about our products.
We have a very strict quality controling system which promise that Hot Products we produce are always of best quality!Of course , if you have some good ideas that you want us to develop or reproduced, please feel free to send us your product image or design artwork, we are also pleased to become your Original Equipment Manufacture.We promise timely delivery, short lead time and good after sell service.We are sincerely looking for your cooperation!
Company information:
Yueqing Changjiang Lock Industry Co., Ltd. Was established in 2001 . We is an exporter of China (Mainland) Door Locks products. With independent export rights, our products have been exported to North America South America Eastern Europe Southeast Asia Africa Oceania Mid East Eastern Asia Western Europe, etc. We sell high quality reactive dyes and cationic dyes at competitive prices! We take this opportunity to invite you to become our partner!Please visit our website at www.cjsok.com or contact us for more information !
Send Inquiry to this Supplier
Hot Products from Other Importer & Supplier
Copyright © 2010 Wholesale lots. All rights reserved. Contact Us:tonyluo2005@gmail.com
Processed in 0.12069 second(s)