Lock Laces
Lock Elastic Laces
Heavy-duty Laces + lock
Size: 3mm(Dia) * 40" ( long ) ( one size fits all )
Many colors
Lock Laces, Lock Elastic Laces
Elastic Laces with Lock
1) These straight elastic shoelaces are 40" in length +/-2 inches.
They provide a more comfortable than curly elastic shoelaces due to more even pressure.
2) This lace is great for quick changes between events. They expand slightly when you hop into the shoes and rebound for a snug fit. Whenever you put pressure on your shoes, they also rebound and won't stretch and remain loose the way a cotton lace will.
3) They are topped off a cord stop available in either black or colors so they can be quickly adjusted for desired pressure and they won't slide out of your top eyelet the way a coiled lace will.
( we also can imprint 1C text or logo on the lock stopper if you need )
4) These laces are excellent for athletic use. Just slide the cord stop down to provide the desired pressure for running, tennis, soccer or whatever.
They are also fantastic for people that can't bend to tie or busy folks that just want to kick on their shoes and go!
Regular Laces Colors:
Solid Color: 1) Black, 2) White, 3) Red, 4) Orange, 5) Navy Blue, 6) Grey, 7) Neon Green, 8) Neon Yellow, 9)Neon Pink
Multi Color: 1) White with black stripes 2) Black with white stripes 3) Yellow with black stripes, 4) Red with white stripes
Locking system:
1) fastener / stopper
2) lock ends
Regular color: black fastener/stopper + black lock end
( we also can make colored fastener/stopper + lock ends to match colored laces if you need, the dyeing cost is us$ 50 per color )
We have many kind of fastener/stopper +lock ends in different shapes and colors for your selection.
Regular Packing: independent packing ( 1 pair laces + 2fasteners + 2 lock ends +1insert card + 1 polybag ) ( can be packed as requested )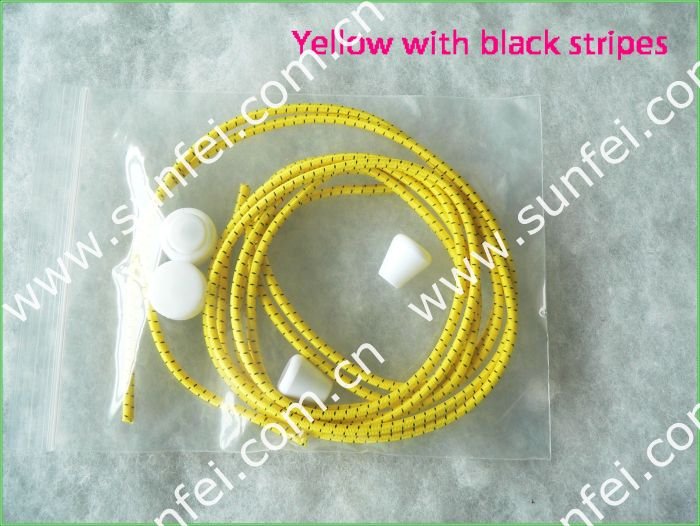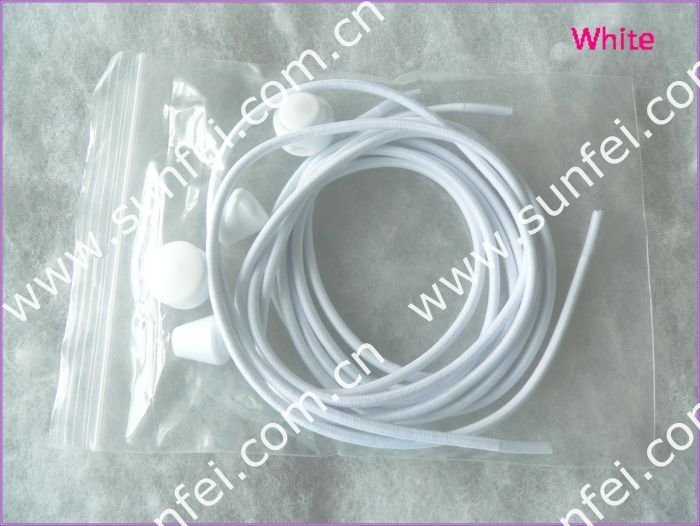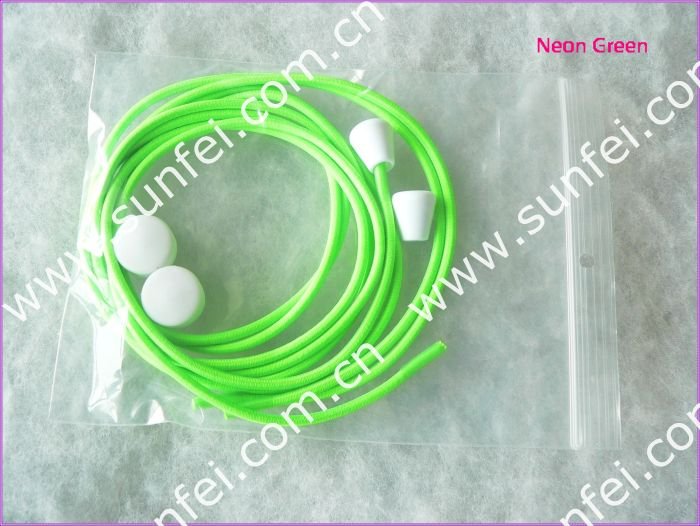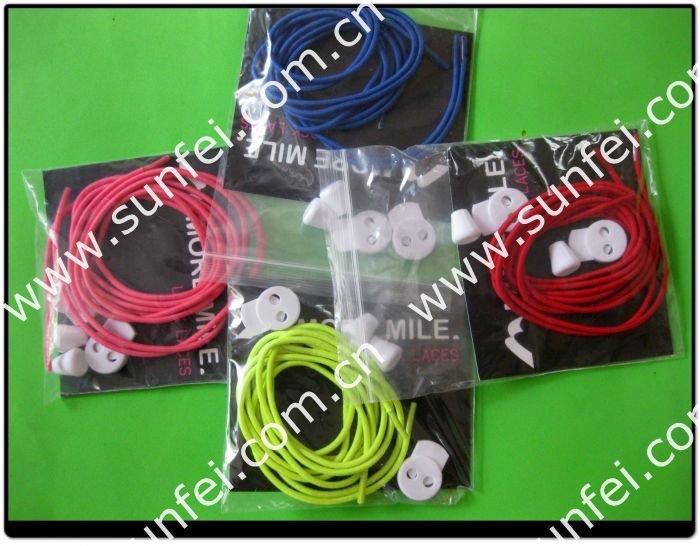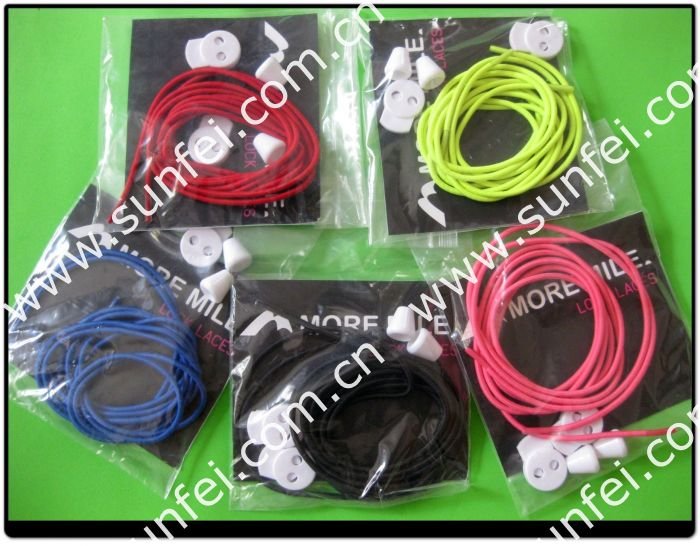 Uses: Sport Shoes
Children's Shoes
Casual Shoes
Laces for those with limited dexterity
Instructions:
Step 1: Lace shoes loosely. Thread both tips through center of lock.

Step 2: Insert key ( tab up ) between laces. Key will click into place.

Step 3: Tie knots approximately 3" from lock. Excess lace may be cut.

Step 4: To tighten, pull laces apart. To loosen, pull key.
We supply with all kinds of Lock Elastic Laces!Of course , if you have some good ideas that you want us to develop or reproduced, please feel free to send us your product image or design artwork, we are also pleased to become your Original Equipment Manufacture.We promise all the products we supply are high quality and best price.We are sincerely looking for your cooperation!
Jiangmen City Xinhui Sun-Fei Trading Co., Ltd. established on 2010 in Japan. We is an exporter of China (Mainland) Olive Oil products. With independent export rights, our products have been exported to North America South America Eastern Europe Western Europe, etc. Our products have enjoyed a good reputation for our good quality, considerate service and reasonable price! We sincerely invite you to visit our factories and cooperate with us for a mutually beneficial and long-term relationship!More details in our website at www.sunfei.com.cn! thanks!