1. can adjust the inclination of baby basin
2. can adjust the heigt of baby carriage
3. can take the diagonal brake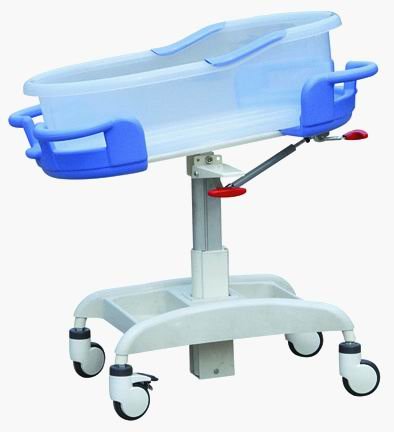 1. A new, convenient, beautiful and practical baby crib, i
s suitable for the department of gynecology and obstetrics of hospitals,
the room of mother and infant, and temporary baby care rooms, etc. T
he air control lifting gear can adjust the height to facilitate the mother-to-child communication.
2. Pure aluminum alloy column adopts the electrostatic spraying.
The integral design is reasonable, artistic, convenient and durable.
3. The basin adopts the healthy transparent resin material with environmental protection and good air permeability.
4. The product has the particular function on tilting to one side.
It adopts the pneumatic lifting mode with high quality cylinders. Thus, it is safe and smooth for lifting. The tilting function can prevent the baby from vomiting after eating.
5. Three colors: pink, blue and green.